How does Kwanda Babies work?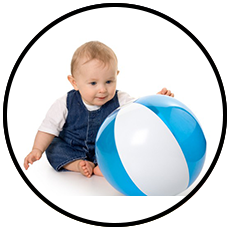 The in-house Kinderkineticist from Kwanda Kinetics presents this exciting program on a weekly basis to all the babies of a contracted school. At the beginning of each term, a general assessment is further performed with internationally recognized test batteries such as the PDMS-2 to evaluate a baby's development with regards to the following categories:
reflexes,
stationary skills,
locomotor skills,
object manipulation skills,
grasping skills,
visual-motor integration skills.
After the assessment, the parents receive a professional report explaining the findings. According to the findings of the assessment, specific individual exercises are then provided to the parents to help them develop their baby's sensory-motor skills adequately at home.
If a serious problem is detected during the initial assessment, an in-depth assessment is suggested where after an adapted physical home program can be provided to the parents. This program can also be presented by the Kinderkineticist on the school's premises or at our centre, should it be required (
Kwanda Care Program
). The parents will be referred to the most appropriate profession if the problem falls outside our expertise.