What does Kwanda Babies address?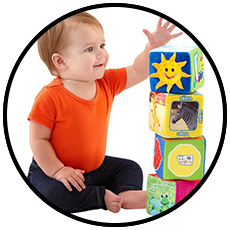 Kwanda Babies focuses on the following aspects within this program:
Gross motor development, including:
Reflex integration
Stationary skills (e.g. sitting, standing)
Locomotor skills (e.g. rolling, crawling, walking)
Object manipulation skills (e.g. rolling a ball, throwing a ball)
Fine motor development, including:
grasping

visual-motor integration
'??
Stimulation of the:
visual system (vision)

auditory system (hearing and speech)

tactile system (touch)

proprioceptive system (muscle movement)

vestibular system (motion)
Apart from addressing the above-mentioned basics necessary for future academic success, the program includes infant massage and music on an occasional basis. (If the teacher has received training, the infant massage can also be performed by her throughout the week to ensure maximum benefit). Music has proofed to calm a baby and enhance learning. Baby massage further contributes to brain and motor development, and increases a baby's body awareness.