How does Kwanda Kids work at a contracted school?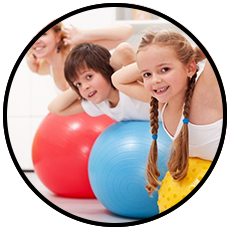 The in-house Kinderkineticist from Kwanda Kinetics presents this fun-filled program on a weekly basis to all the children of the school. Bi-annually, a general motor assessment is also done in order to determine whether a child is developing his/her skills to the full and, if not, to detect a problem or delay in time so that proper intervention can take place. This assessment further helps the centre with our research and allows us to continually shape the curriculum of our program.
After the assessment, the parents receive a professional report explaining the findings. Together with the report, specific individual exercises can be provided to stimulate and develop the child's neuro-motor or fitness skills adequately at home.
If a serious problem is detected during the initial assessment, an in-depth neuro-motor assessment is suggested where after an adapted physical home program can be provided to the parents. This individualized program can also be presented by the Kinderkineticist on the school's premises or at our centre, should it be required (
Kwanda Care Program
). Otherwise the parents will be referred to the most appropriate profession if the problem falls outside our expertise.