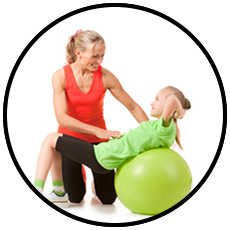 Apart from the fact that we have an inherited love for children, we are dedicated in providing high quality assessment, care and intervention for children in need of it. Our centre makes use of a combined approach between 'bottoms-up' and 'top-down' intervention strategies. Bottoms-up examines the small, separate components of a child's skills whereas top-down takes on a global perspective and focuses on the child's participation in the context they live in. A top-down approach is also family-centered and outcome-based. It ensures that information gathering, planning and interventions are grounded in life activities which are relevant and important to the child and his/her family. At our centre, we do not want to focus on the child's deficits alone but rather also want to acknowledge the child's interests and strengths.
The Kinderkineticists at our centre can further assist in the formal diagnosis of a child by providing information to the health/education/medical team about the child's development in comparison to a typical child including:
gross motor skills,
social and play skills,
sensory functioning,
attention and behaviour
Observations of the child's behaviour and participation during assessment or in various other environments may, for instance, reveal "restricted, repetitive and stereotyped patterns of behaviour". Results of our assessments are further useful in identifying and referring children who will benefit from services or programs offered by other medical related professions. It is essential to provide assistance for all children as soon as the problem has been identified and its degree and nature established, as the problem can have a negative accumulative effect on the child's development should the problem be ignored.