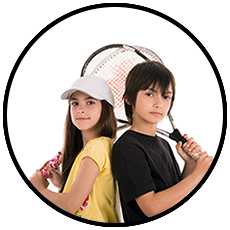 Kwanda Sport is the name of our Kinderkinetics program which aims to help optimizing children's sport performance. 'Kwanda Sport' is a group-based SportsVision development program where basic skills with regards to different sports are taught in a fun and exciting manner. It is presented once a week during public school terms by registered Kinderkineticists at selected sport centres around Gauteng.
This fun program is designed for children between 10 and 13 years of age in order to develop a child's sports-orientated skills. It is also developed to optimize a child's ocular-motor control and visual perceptual skills. It further encourages faster visual processing as well as proper brain integration and aims to enhance sport performance, thus helping a child/team to reach their full potential.
Kwanda Sport is more than just normal sport development classes. It is a totally unique program presented by professionals that offers children and/or teams the additional support to 'reach dizzy heights' and be the best that they can be. It is truly the SMART move.
PLEASE NOTE: It does not aim to replace individual visual therapy in any way and the necessary referrals to the appropriate professionals will be made once any serious functional visual problems are being detected.